Cincinnati, OH Dental Implants - Mt. Lookout Dentistry
Dental implants are a revolutionary tooth replacement option that has become one of the most popular dental treatments available. Dental implants offer you the ability to regain your smile, with a look that is naturally beautiful. The dentists at Mt. Lookout Dentistry in Cincinnati, Ohio offer dental implants to restore your smile.
How it Works

Dental implant treatment begins with the placement of the implant screw, which will function as the "root" of your missing tooth. Implant screws are placed during a simple in-office procedure. During the healing process, your body begins to produce more bone, which fuses with the dental implant screw and locks it in place.
Dental implant screws are made of titanium, a uniquely biocompatible material that your body won't reject. In fact, dental implants boast a success rate of over 95 percent, making them the most successful surgical implant, according to the American Academy of Oral and Maxillofacial Surgeons.
After your tissue has healed, the dental implant screw is capped with a beautiful dental implant crown. Dental implant crowns are made with high-grade dental ceramic, which is light-reflective, just like tooth enamel. In fact, dental implants are virtually indistinguishable from natural teeth.
Dental implants offer a beautifully natural look which is easy to maintain. You simply brush and floss dental implants just like natural teeth. The crown material is stain-resistant too, so your new implants will stay brilliant and beautiful for years.
They are permanent tooth replacement which you never remove. Because dental implants help your body produce more bone, they help you maintain a firm jawline and more youthful facial contours, all the hallmarks of a younger-looking face.
Dental Implants Replace Multiple Teeth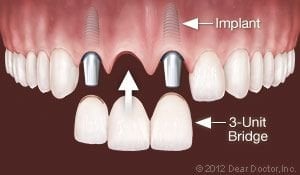 When you have more than one tooth missing, implants provide an ideal replacement mechanism. You don't even need one implant for every missing tooth. Instead, implant teeth can act as supports for fixed bridgework. For example, if you are missing three teeth in a row, we can place two implants, one on either side of the gap, and a crown in between that has no implant underneath. That way, you won't need to use any of your remaining natural teeth as bridge supports, which could weaken them and make them more susceptible to decay.
Dental implants restore your biting and chewing function, and also your self-esteem. Your smile is your biggest asset, and dental implants help you achieve an outstanding smile. To find out more about dental implants, talk with your dentists at Mt. Lookout Dentistry in Cincinnati, Ohio today.

Do you need Dental Implants or would like to learn more? Then call our Cincinnati, OH
office today at (513) 871-2852 for more information or to book an appointment!